WWF calls on Greece to build back a better, greener, fairer future
Tuesday, 06 October 2020
As the world struggles to recover and rebuild from the coronavirus pandemic, now is the time to invest in the health of people and the planet. A new report launched by WWF Greece today, outlines a green stimulus plan for Greece, aiming for a nature-positive economy, with the potential to create thousands of new jobs. 
© Andrea Bonetti / WWF Greece
Beyond a dramatic health crisis, the COVID-19 pandemic has triggered an unprecedented economic collapse. In response to this crisis, the European Union took a historic step by creating a common funding facility that aims to boost economic recovery across member-states; the Recovery and Resilience Facility (RRF). Where and how these funds are spent will determine the development pathway of Greece, for the decades to come. 
Will funds be used to prop up an economically broken and environmentally unsustainable development model, or can we instead harness this chance to finance transformative investments that put the economy on a sustainable course? For WWF, this is a unique opportunity for Greece and Europe in general, to build back a better, greener, fairer economy that works for the people and the planet.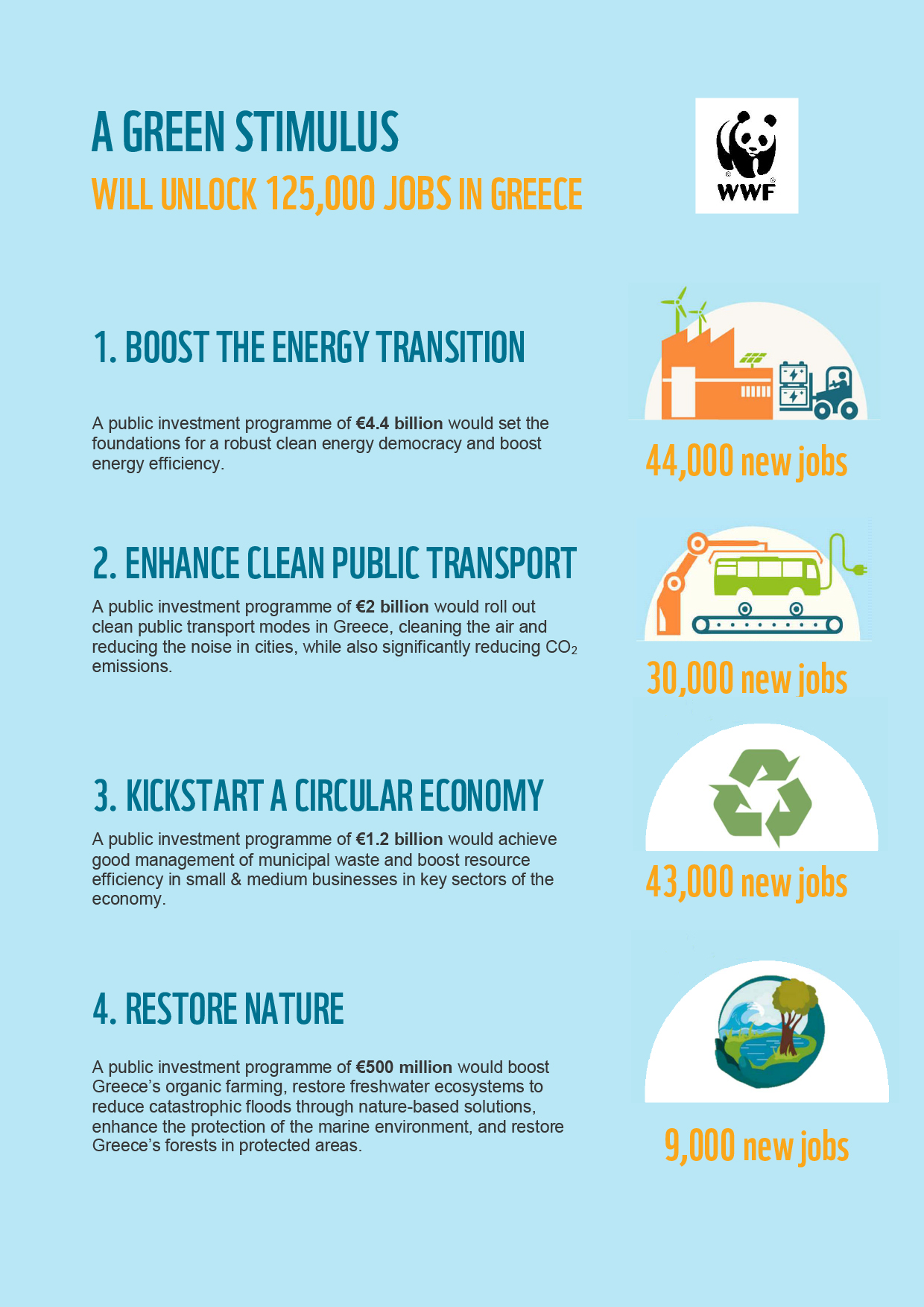 The WWF report "Blueprint for green recovery in Greece", launched today, outlines a €8.4 billion green stimulus programme, which could create at least 125,000 new jobs in Greece, while laying the foundations for a nature-positive economy. This investment amount represents roughly 50% of the total grant component of the RRF allocated to Greece. 
"Now is the time for transformational change. Learning from the lessons and mistakes of the past, and building on the EU Green New Deal, it is critical that Greece achieves a recovery that is sustainable for the environment and the economy, just and socially inclusive. We will not have another chance in the foreseeable future to transform the economy of this country and set it on a more prosperous, equitable and sustainable path. We must not let this opportunity be lost", says Demetres Karavellas, CEO of WWF Greece. 
3 transformational objectives - 10 flagship investment programmes
WWF Greece's report sets out a series of green investment programmes that can deliver for the economy and employment in the short-term and expedite Greece's necessary green transition. These 10 flagship programmes fall under three major transformational objectives; to accelerate decarbonization, lay the foundation for a circular economy and protect Greece's nature while preserving and enhancing the essential socio-economic benefits it provides.  
In particular, the suggested stimulus measures are as follows;
a) Accelerate the transition to net zero
Accelerating energy efficiency investments
Rolling out decentralized clean energy communities across all municipalities
Redirecting gas investments towards clean energy and related infrastructure
Increasing public investments for clean public transport
b) Kickstart a circular economy model
Investing in necessary infrastructure to achieve the EU's 2025 municipal waste recycling target
Covering investment costs for increasing the resource efficiency of SMEs (small and medium enterprises) in four key sectors
c) Restore and protect Greece's nature. 
Doubling organic farmland by covering the upfront costs of transitioning from conventional to organic farming 
Investing in nature-based solutions to reduce flood risks
Closing the investment gap in Marine Protected Areas
Investing in forest management and restoration across the Natura-2000 network.
Indicatively, a total investment of €4.4 billion would set the foundations for a robust energy democracy, boost energy efficiency in Greece, and enhance a clean transport model while creating 44,000 jobs. Another investment of €1.2 billion would achieve good management of municipal waste and boost resource efficiency in small and medium businesses, while creating 43,000 new jobs. 
Additionally, an investment of €500 million would boost Greece's organic farming, reduce the risk of catastrophic floods through nature-based solutions, contribute to the creation of a properly managed network of marine protected areas, and lay the foundations for effective forest management within the Natura-2000 network. WWF Greece estimates that the combination of these measures would create 9,000 new jobs.
"The investment plan we put forward guarantees immediate job creation across the economy in green sectors of the future, while contributing to the transformational goal of a nature-positive economy. After ten years of recession, stagnation, and dearth of investments in the real economy, this is a unique opportunity for Greece to bounce forward by laying the foundations for a different, greener, more sustainable economic model", said Olivier Vardakoulias, Economic Policy Officer, WWF Greece.
The full report is available here.
New lignite plant cancelled in major NGO court win
Tuesday, 14 January 2020
A major Greek court ruling has put the final nail in the coffin for planned power plant Meliti II, and left its sister plant Meliti I operating without legal permission. The decision follows a legal challenge brought, WWF Greece and Greenpeace Greece, by ClientEarth.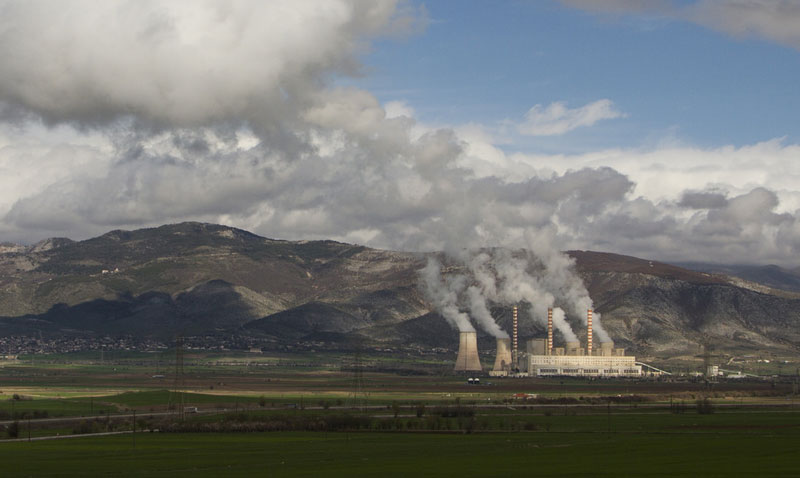 © Andrea Bonetti / WWF Greece
Greece commits to phase out lignite and single use plastics
Friday, 27 September 2019
The commitments announced by Prime Minister Kyriakos Mitsotakis at the UN Climate Action Summit, that Greece will shut down all lignite power plants by 2028 and ban single-use plastics by 2021, are welcomed by WWF Greece as bold steps towards reducing the country's environmental footprint.
For Greece, the phase out of lignite needs to be part of a broader ambitious decarbonisation plan, with one clear goal - zero net emissions by 2040 at the latest. In this context, while WWF Greece congratulates the government on its commitment for lignite phase out, the country's increasing attention on hydrocarbons, is an issue of great concern. The ongoing hydrocarbon frenzy which started during the economic crisis, threatens to lock Greece's energy system into a high greenhouse gas emissions model for the next decades.
"We welcome the Prime Minister's announcement for phasing out lignite as a very positive move in addressing the climate crisis. However, we fail to understand why his government at the very same time insists on drilling for oil and gas. Just last week, four new contracts with petroleum companies were submitted by the government to the Greek Parliament for voting, opening new marine areas of 50,000 sq. km to hydrocarbon exploration and drilling. We are asking for consistency in energy policy at a time when science around the climate crisis has become crystal clear – the fossil fuels need to stay in the ground", says Demetres Karavellas, WWF Greece's Director General.
Supreme court annuls environmental permits of lignite stations
Friday, 13 September 2019
With its decisions n. 1606/2019 and 1607/2019, the Council of State annulled the environmental permits of the Megalopolis A and Megalopolis B lignite stations. The annulled permits had been approved by the Environment and Energy Minister without carrying out an EIA, seven years after the previous ones expired. The annulled permits allowed the lignite stations to emit higher levels of sulfur dioxide and nitrogen oxides than the ones prescribed in EU legislation.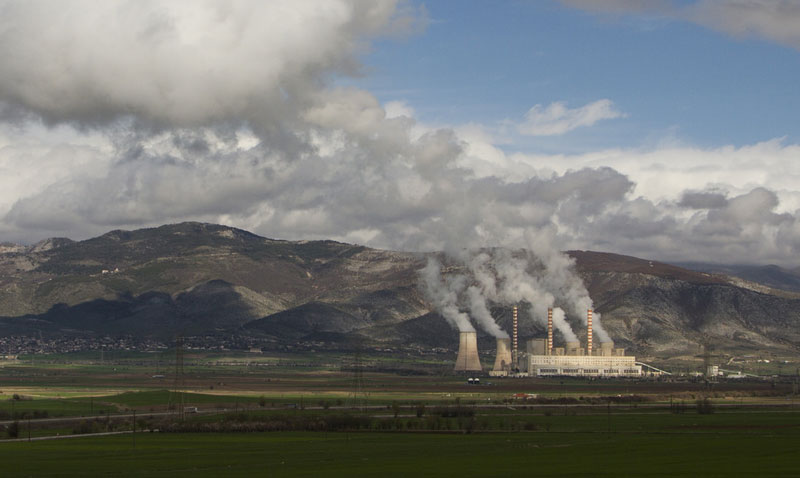 A. Bonetti / WWF Greece
The actions for annulment against the permits were filed in 2017 by the environmental organizations WWF Greece, Greenpeace Greece and ClientEarth.
Let the failed lignite sale be a new start for a sustainable PPC
Tuesday, 16 July 2019
The repeated failure of Greek electricity utility Public Power Corporation (PPC) to sell 40% of its lignite assets, which was once again confirmed yesterday through the declaration of the sale tender as fruitless, proves beyond doubt that lignite is not only environmentally but also financially detrimental.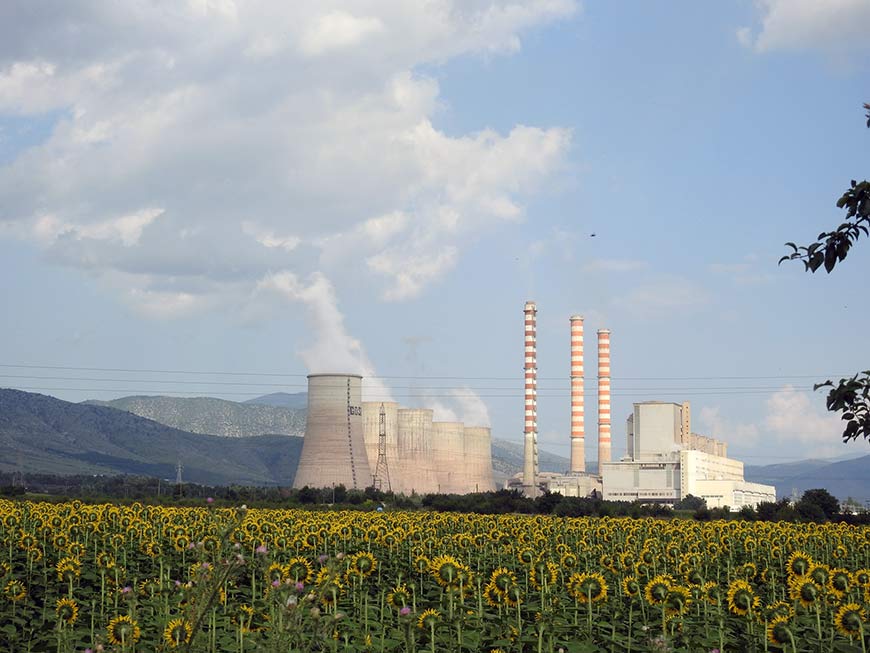 © Marianna Plomariti / WWF Greece
100 scientists and scientific bodies sign a resolution against hydrocarbon exploitation in the Hellenic Trench
Monday, 13 May 2019
The global scientific community calls on the Greek Prime Minister to cancel the exploration and exploitation program in the area concerned.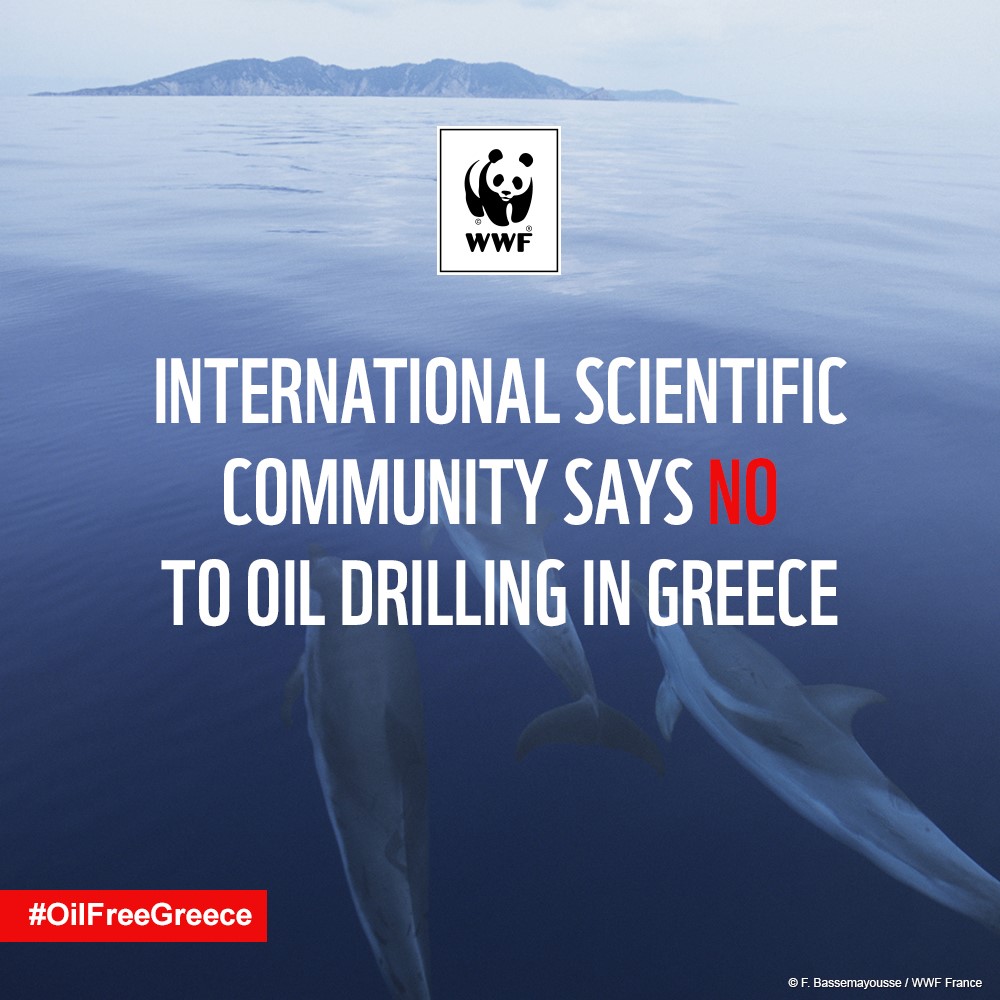 WWF & Greenpeace on the Greek capacity mechanism
Friday, 10 May 2019
In their response to the consultation on Greece's capacity mechanism, the Greek organisations of WWF and Greenpeace note that the potential for the proposed scheme to prolong Greece's dependence on fossil fuels is the biggest concern. This is through a potential capacity contract for the new 660MW lignite unit Ptolemaida V, currently under construction, refurbishment contracts to extend the life of old lignite plants, and annual contracts to subsidise all fossil fuel power plants year-by-year. These contracts would slow down Greece's vital transition to 100% renewable electricity system.
As the Greek lignite sale fails, it is time for the EU to end coal
Tuesday, 12 February 2019
The failure of the bid for the divestment of 40% of the Public Power Corporation's (PPC) lignite capacity comes as no surprise. Once again, coal proves to be a dying market, unprofitable even if the huge cost on health and environment is ignored.
Big fat Greek lignite sale burns EU climate policies
Friday, 01 February 2019
By Demetres Karavellas and Nikos Charalambides
While other EU countries, such as Germany, announce plans for coal phase-out within the next 20 years in compliance with their Paris Agreement commitments, Greece's future appears locked in carbon for decades to come, write Demetres Karavellas and Nikos Charalambides.
EU Commission pushes Greece for new coal
Saturday, 26 January 2019
WWF & Greenpeace address EU Commissioners on the opening of Greece's lignite market
The big lignite sale now happening in Greece, under supervision and pressure by the European Commission, prolongs the country's dependence on dirty coal and negates the EU's policies for coal phase-out.
Under the umbrella of antitrust EU rules, the European Commission has been pushing Greece to regulate the sale of PPC coal plants and mines, a process now in its final stages, instead of allowing other viable options leading to rapid coal phase-out. In reality, the Commission's position leads to new dirty coal, according to terms especially attractive to investors: license for a new 450MW lignite power plant (Meliti II), favourable licensing conditions for operating plants (Megalopoli, supplied by the lowest thermal quality lignite deposits in the EU, and Meliti I).
Through its catalytic role in the big coal sale, the Commission essentially pushes for the revival of an economically dying market, which is also subject to specific environmental regulations as heavily polluting and climate catastrophic. In particular, new investments in coal will seriously undermine Greece's prospects of meeting its climate obligations under the Paris Climate Agreement.
In a common letter addressed to Commissioners Pierre Moscovici (Economic and Financial Affairs), Margrethe Vestager (Competition), Karmenu Vella (Environment), Miguel Arias Cañete (Energy) and Vice-President Maroš Šefčovič (Energy Union), the Greek and EU offices of WWF and Greenpeace call for:
an urgent climate evaluation of the divestment of 40% of PPC's coal assets,
a thorough reconsideration of the sale, in view of the target of achieving net zero emissions by 2040 and meeting Paris Climate Agreement objectives.
Greece should be encouraged to follow the lignite phase-out route which, one after another, its EU counterparts are following, while at the same time financially supporting the just transition of the lignite regions of Greece towards sustainable economic activities.
Read the letter.
Page 1 of 6