WWF calls on Greece to build back a better, greener, fairer future
Tuesday, 06 October 2020
As the world struggles to recover and rebuild from the coronavirus pandemic, now is the time to invest in the health of people and the planet. A new report launched by WWF Greece today, outlines a green stimulus plan for Greece, aiming for a nature-positive economy, with the potential to create thousands of new jobs. 
© Andrea Bonetti / WWF Greece
Beyond a dramatic health crisis, the COVID-19 pandemic has triggered an unprecedented economic collapse. In response to this crisis, the European Union took a historic step by creating a common funding facility that aims to boost economic recovery across member-states; the Recovery and Resilience Facility (RRF). Where and how these funds are spent will determine the development pathway of Greece, for the decades to come. 
Will funds be used to prop up an economically broken and environmentally unsustainable development model, or can we instead harness this chance to finance transformative investments that put the economy on a sustainable course? For WWF, this is a unique opportunity for Greece and Europe in general, to build back a better, greener, fairer economy that works for the people and the planet.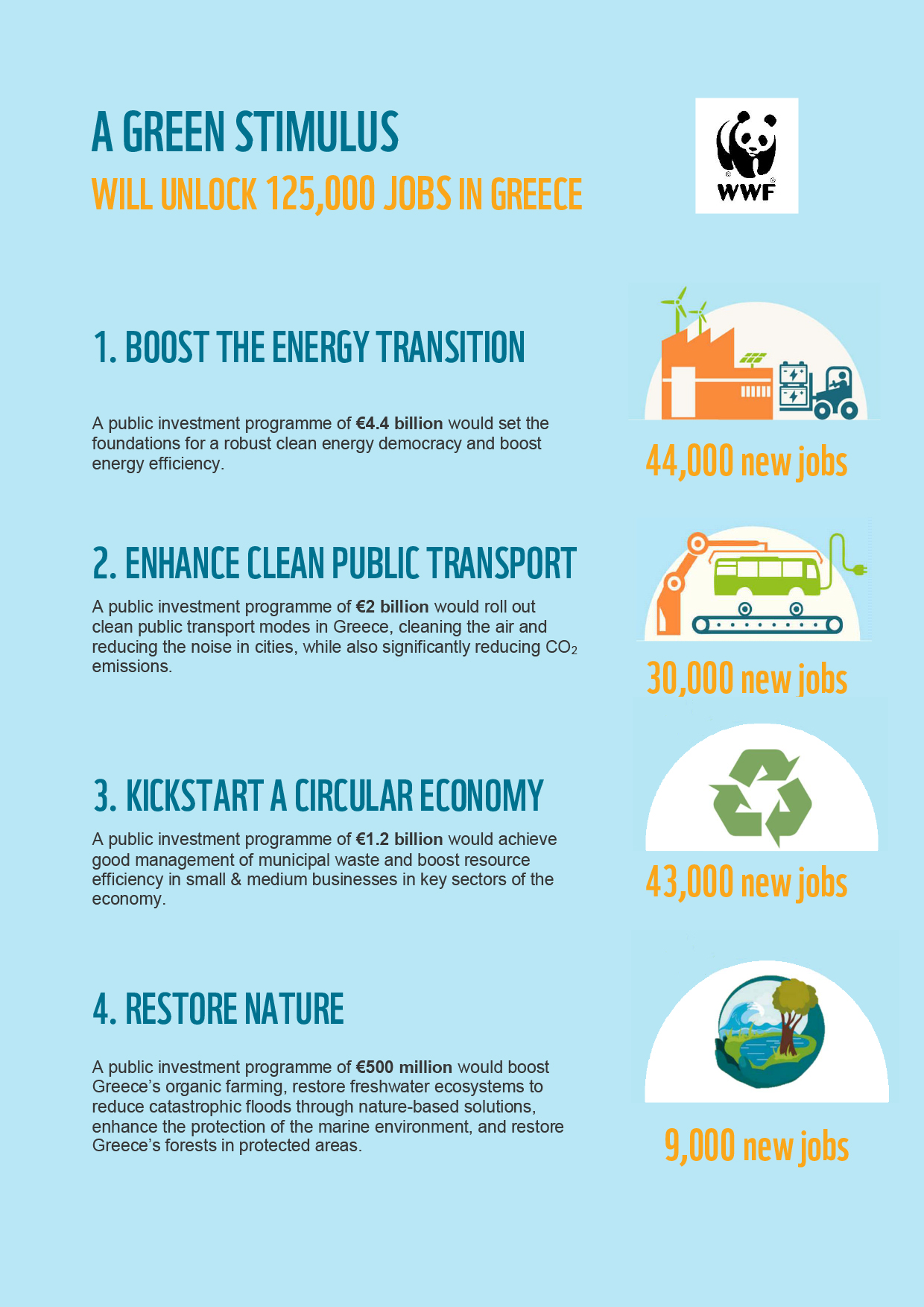 The WWF report "Blueprint for green recovery in Greece", launched today, outlines a €8.4 billion green stimulus programme, which could create at least 125,000 new jobs in Greece, while laying the foundations for a nature-positive economy. This investment amount represents roughly 50% of the total grant component of the RRF allocated to Greece. 
"Now is the time for transformational change. Learning from the lessons and mistakes of the past, and building on the EU Green New Deal, it is critical that Greece achieves a recovery that is sustainable for the environment and the economy, just and socially inclusive. We will not have another chance in the foreseeable future to transform the economy of this country and set it on a more prosperous, equitable and sustainable path. We must not let this opportunity be lost", says Demetres Karavellas, CEO of WWF Greece. 
3 transformational objectives - 10 flagship investment programmes
WWF Greece's report sets out a series of green investment programmes that can deliver for the economy and employment in the short-term and expedite Greece's necessary green transition. These 10 flagship programmes fall under three major transformational objectives; to accelerate decarbonization, lay the foundation for a circular economy and protect Greece's nature while preserving and enhancing the essential socio-economic benefits it provides.  
In particular, the suggested stimulus measures are as follows;
a) Accelerate the transition to net zero
Accelerating energy efficiency investments
Rolling out decentralized clean energy communities across all municipalities
Redirecting gas investments towards clean energy and related infrastructure
Increasing public investments for clean public transport
b) Kickstart a circular economy model
Investing in necessary infrastructure to achieve the EU's 2025 municipal waste recycling target
Covering investment costs for increasing the resource efficiency of SMEs (small and medium enterprises) in four key sectors
c) Restore and protect Greece's nature. 
Doubling organic farmland by covering the upfront costs of transitioning from conventional to organic farming 
Investing in nature-based solutions to reduce flood risks
Closing the investment gap in Marine Protected Areas
Investing in forest management and restoration across the Natura-2000 network.
Indicatively, a total investment of €4.4 billion would set the foundations for a robust energy democracy, boost energy efficiency in Greece, and enhance a clean transport model while creating 44,000 jobs. Another investment of €1.2 billion would achieve good management of municipal waste and boost resource efficiency in small and medium businesses, while creating 43,000 new jobs. 
Additionally, an investment of €500 million would boost Greece's organic farming, reduce the risk of catastrophic floods through nature-based solutions, contribute to the creation of a properly managed network of marine protected areas, and lay the foundations for effective forest management within the Natura-2000 network. WWF Greece estimates that the combination of these measures would create 9,000 new jobs.
"The investment plan we put forward guarantees immediate job creation across the economy in green sectors of the future, while contributing to the transformational goal of a nature-positive economy. After ten years of recession, stagnation, and dearth of investments in the real economy, this is a unique opportunity for Greece to bounce forward by laying the foundations for a different, greener, more sustainable economic model", said Olivier Vardakoulias, Economic Policy Officer, WWF Greece.
The full report is available here.