WWF Greece saves the common natural heritage of Europe and the Mediterranean, in Greece. We stand up for life in the wild: our seas and coasts, forests and small wetlands, sea turtles and seals, sharks, vultures. 
Our track record of important victories is our guide towards fulfilling our mission to stop the degradation of the natural environment and to build a future in which humans live in harmony with nature, by:
conserving the world's biological diversity
ensuring that the use of renewable natural resources is sustainable
promoting the reduction of pollution and wasteful consumption.
We are proud members of the international WWF family, which is determined to make possible a safe and healthy planet, where all humans live in harmony with nature. 
We have the knowledge and courage to fight climate change, loss of wilderness, forest fires, overfishing. We stand against bad laws, environmental crime, wasteful policies and polluting business practices. We change minds. We persuade politicians and governments, businesses, families and individuals of all ages and races to join forces to save our planet.
We are not doing this alone: 5 million members globally, 11,000 active supporters in Greece, over 3,000 volunteers, a committed multi-disciplinary team of 70 professional employees. We work together with communities, academia, local and national authorities, civil society, and businesses sharing our concern and love for life on earth.
We are WWF: open and welcoming to all who care for a future of harmony with nature, driven by facts and scientific research, striving for solutions to the crisis that threatens our common natural heritage, in Greece.  
Our programme
In accordance with the global WWF programme framework, the objectives of our strategy for the period 2018-2022 cover biodiversity conservation (priority places and species) and footprint (lifestyles and economy). A fifth, extraordinary objective addresses the impact of the economic crisis on environmental protection and policies.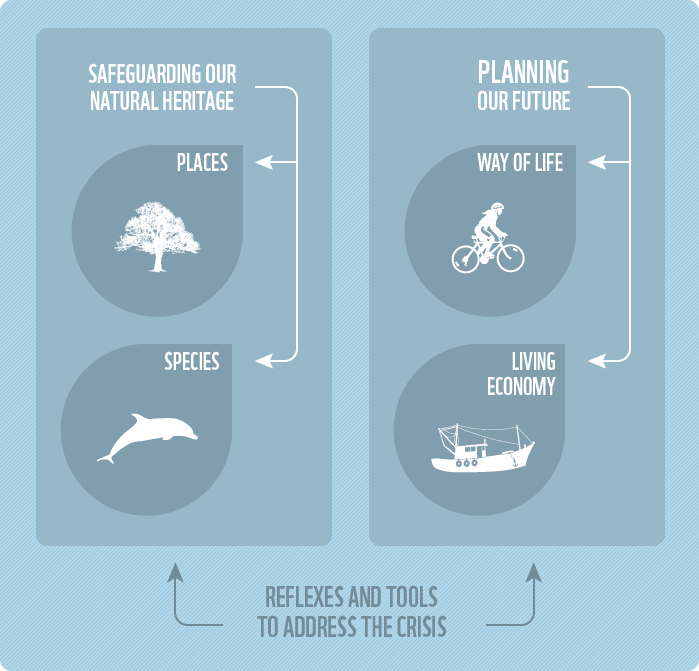 We work in the sea, in forests and wetlands, we lobby for strong policies and effective laws, we protect particularly important areas and species.
Living seas
In the period 2017-2022, our work in the sea will focus on 
Scaling up our seafood work: We will build capacity in key stakeholders through a forum on sustainable fisheries and the development of one more fisheries improvement project. We will also continue to work on aquaculture and seafood at the corporate and consumer levels. 
Conserving species and habitats: Field work on sea turtles and cetaceans will be expanded, whereas our work on the marine protected area of Gyaros will be further advanced, by building on sustainable local livelihoods in connection with the conservation of the ecologically significant sea of the Cyclades.
With respect to the habitats of the loggerhead turtle, while continuing to safeguard Sekania beach on Zakynthos, WWF Greece will also seek to fill critical knowledge gaps relating to the conservation status of major and moderate nesting beaches in order to promote measures that will ensure their protection.
On the broader Mediterranean context, WWF Greece is an active part of WWF's Mediterranean Marine Initiative, which leads conservation and aims to move the Mediterranean towards sustainable fisheries, effective marine protected areas, and recovery of key species. All these elements will contribute to the wellbeing of human communities, the health of wildlife, the sustainability of marine resources, and the strength of local green economies in the Mediterranean region.
Living land
Our work focuses on mitigating wildfire and land-use change threats to valuable ecosystems. Our work on wildfires, includes rapid assessments, proposals for ecosystem rehabilitation, communication, information and awareness-raising established WWF Greece in the field of wildfire and land-use change issues. 
In the period 2017-2022, our work on land will focus on 
Enhancing forest fire prevention.
Promoting best practices for forest post-fire restoration.
Improving management of mosaic Mediterranean landscapes.
Improving protection and management of forests of conservation importance and their ecological connectivity.
Supporting sustainable products and services from forests for services.
Developing conservation action on fragile coastal landscapes.
Small island wetlands
In the period 2017-2022, our work for the conservation of small island wetlands will cover the entire Mediterranean! From Greece, our work will expand to other parts of the Mediterranean, in order to replicate our successful work on the "Conservation of the island wetlands of Greece". We will also promote the implementation of the relevant Ramsar resolution, which was supported by WWF Greece.
Protecting the land of raptors
In Dadia, we will continue to address key threats to the vultures' habitats, including the wind farms and forest management practices, in view of our growing interest to work on addressing direct threats to forest ecosystems.
Biodiversity policy
Working on biodiversity policy is a long-standing domain for WWF Greece and a field of important victories for Greek nature. In recent years, we have successfully prevented a rollback in EU nature legislation and have consistently promoted solutions for the establishment of an effective national system of protected areas.
In the period 2017-2022, our work on will aim to improve implementation of biodiversity legislation and the management of Greece's Natura 2000 network, as well as the development of species action plans, among others through capacity building of local communities and awareness raising. We will also showcase the socio-economic benefits and the development potential of protected areas. We will continue working with the WWF network and other partners aiming at an ambitious biodiversity policy agenda.
Energy and climate change
In the period 2017-2022, our work on energy and climate change will aim towards the following:
With the goal of achieving the phase-out from coal and oil by the mid-2030s, we aim to stop the construction of new fossil fuel plants, decrease the lifetime of existing ones, and catalyze the development of a solid plan for the just transition of lignite producing regions to the post-coal era.
With the goal of achieving a 60% share of renewables in electricity by 2030, we promote the deployment of renewables through impactful model projects (such as the TILOS) and policy interventions, while ensuring biodiversity conservation. 
Overcome political and financial barriers for utilizing Greece's large, untapped energy efficiency potential.
Raise awareness on the negative impacts of hydrocarbon exploration and exploitation, the efforts against climate change, as well as its minimal contribution to the Greek economy.
In November 2017, WWF Greece published the study "Long Term Plan for the Greek Energy System" , in collaboration with the scientific team of the National Observatory of Athens. The study proves that going coal-free by 2035 is indeed feasible for Greece.
Improving lifestyles
Our work for the reduction of the lifestyle footprint aims to mobilize citizens towards adopting sustainable behaviors that lead to footprint reduction. We work with all, focusing on households and school children, and we address high footprint everyday life. Our work on better lifestyles evolves around the following initiatives:
The "Better Life" initiative on improvement of citizens' daily life, which also includes extensive work on environmental education, and
The "Fish Forward" project on sustainable seafood consumption.
Law and governance
Through our special focus on environmental law and governance, we have achieved important wins for Greece's natural heritage and the promotion of environmental democracy.
Successful legal action against environmentally hazardous plans. All of them have led to lasting results, and/or case-law with wider significance.
Annual publication of Greece's only environmental law review.
Continuous operation of the "Legal Team" – a volunteer-run team of lawyers and other professionals, which offers help and advice to citizens submitting complaints.
Successful use of public consultation and lobbying opportunities – which, in some cases, has influenced significantly law or policy.
In the period 2017-2022, our work on environmental law and governance will focus on 
The development of publicly available tools for environmental transparency and access to environmental justice.
Intervening in the legislative process, in order to avert rollback in important environmental legislation and governance.
Taking to court paradigmatic cases of environmental law infringements, with the aim of promoting improvements in key environmental legislation.
Advancing the work of the legal team.